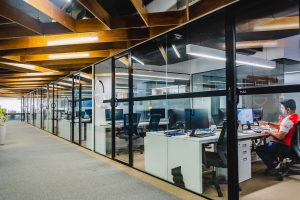 The advantages of working from a coworking space are many and when the coworking space is in a posh city like Bangalore it is even better. So if you are in Bangalore, check out GoodWorks Cowork in Electronic city.  
GoodWorks' workspace can host up to 400 seats. The other offerings include First-class infrastructure, open offices, a beautiful common area, meeting rooms, virtual offices, private cabins for small teams and managed spaces for larger teams. In Electronic city, GoodWorks has ample natural light, roomy working areas, and a cafeteria and meeting rooms with a view. Whether you are a team of 4 people or 100, GoodWork's facilities and offerings can be customised to match your needs. 
Why should you choose GoodWorks electronic city workspace as your next coworking destination? Read on to know why GoodWorks CoWork is your ideal coworking space in Electronic city, that will take care of your work needs and boost your productivity – 
Amazing Location
Goodworks coworking space is located in an ideal location, in Electronic City. Having your office space in such a prominent place puts a good impression on your clients and gives your business credibility. 
Basic Amenities 
Goodworks Cowork has a fully furnished office space and a positive atmosphere. It is an ideal space for business meetings, and workshops and the place's design promotes productivity. What else do you need? Contact the GoodWorks team and they will help you out in all possible ways.
Budget-Friendly
As launching a new business involves many expenses, you will not want to put much money into space allocation. GoodWork's workspace in Bangalore has multiple options to choose from, such as private cabins, hot desk, etc. you can select the one that suits your needs. 
Happy Atmosphere
A lively environment with minimal distractions will make your everyday much more efficient and productive. This is how every day is there at GoodWorks coworking space. Want to experience how a day looks like in our workspace? Book a trial day here. 
Flexible Space
GoodWorks Cowork has a flexible office space that allows you to expand when needed. So you don't have to worry about shifting. Suppose you have started with a small team, but later on when your team size increases you will need more space. Having to shift space is a time-taking process. You can expand and modify your space requirement as needed.  
Wrapping Up
GoodWorks CoWork is the best coworking space in Bangalore, that will fulfil your ideal workspace requirements. Along with electronic city. we are present in all the prime locations of Bangalore. Visit us and experience our workspace yourself!
So what are you waiting for? Book your seat here, start working and see your productivity levels soar high!