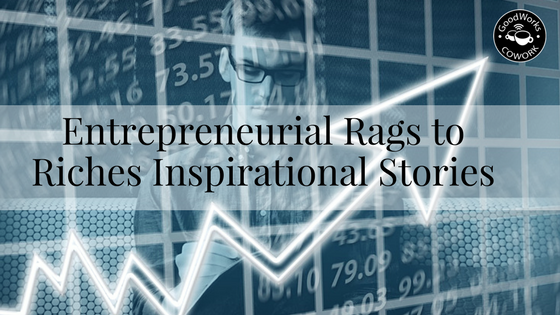 Entrepreneurial success stories are always fascinating and inspire people to achieve the unachievable. The stories behind how they seized the opportunity and made their venture a successful one, always elicits an aura of awe and motivation for an entrepreneur.
Today we look at six such influential people who started from nothing, but are very successful today.
John Paul DeJoria
John Paul is a very successful investor and the founder of John Paul Mitchell Systems. He is also the co-founder of Patron Spirits and House Of Blues Chain. He is wildly successful, and is worth an estimated three billion dollars. But, it was not all rainbows and sunshine for John, as he used to work as a janitor in a truck company before he took a loan of seven hundred dollars from a bank and establishing a company which became a huge success. He and Mitchell met at a hair care company and together started a venture which later became John Paul Mitchell Systems – the uber premium hair care products manufacturing company.
2. Kevin Plank
Most of us would have heard of Under Armour – one of the world's leading sports apparel and accessories manufacturer. The founder of Under Armour, Kevin Plank, was pretty much broke when he decided to start Under Armour. He invested all his saved money and took a loan from a bank, making his total investment around sixty thousand dollars, and started selling clothes of his brand to college students. Shortly after that his company gained enormous traction and Under Armour went on to generate millions in revenue with orders flooding in.
3.  Jan Koum
Today, calls and SMS's are used less and WhatsApp is used more. The messaging app had taken the world by storm when it was launched and its user base continues to grow till date. The founder of WhatsApp, Jan Koum, was from a poor family in Ukraine. After Koum moved to California, he became interested in computers and programming. He realized how big the app market could be and hence left his job at Yahoo! to create Whatsapp. His app was launched on 2014 and became a major hit. Facebook later bought the app for a cool sum of USD$ 19 billion.
4. Sam Walton
The founder of Walmart, Sam Walton, was a poor guy when he started his venture. Sam had to take money from his father-in- law as a loan to start his first general store. Walton started his first store way back in 1945, and it was a huge success. This laid the groundwork for Walmart's inception, and the first Walmart was opened in 1962. Walmart was a huge hit with the consumers and today, it's one of the largest retail stores in the world.
5. George Soros
Not many people know George Soros, but his endeavors are one of a significant magnitude. Soros was born in Germany when the Nazis were dominating Germany, and escaped to England where he obtained education from the famed London School Of Economics.
He used to work in order to pay his tuition at the university. After completing his education, he moved to the U.S and started investing in companies, and later started his own hedge fund. His most notable achievement was in late 1900's when he made a billion dollars in a single day. There are many people who worked and persevered, and despite their economic conditions, became successful entrepreneurs. Do you know of any other prominent name that stands out? Do write to us and let us know.