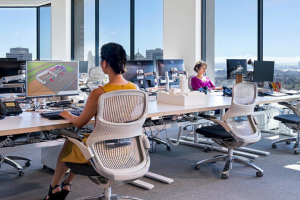 Coworking Spaces attracts professionals, startups and enterprises for a number of reasons. The primary one being that shared spaces are cheaper than traditional offices, and usually offer better amenities and provide better opportunities for social interaction. Compared to working from home, coworking spaces foster productivity and allow workers to connect with each other. All these advantages are making shared spaces popular among millennials. But like every other place, coworking spaces also relies on a code of conduct. And everyone working from there is expected to follow it. It's similar to some written and unwritten rules and etiquettes that are followed in all professional place. The most common expectations in coworking spaces are simple, but they really do help keep everyone happy. If you're new to the world of coworking, here's what you should do: 
Don't be too loud
It's difficult to stay productive if you are surrounded by distracting, loud individuals. Most people that work out of a coworking space are there to focus and complete the tasks. Be careful of the volume in a shared space, such as, don't take personal calls too loudly in common areas. You should also use headphones when listening to any audio rather than watching it on speaker. For meetings and discussions, you should use a private meeting room or spaces that do not disturb others. 
Respect others boundaries
While working from a coworking space you should be mindful of other people's space. As in, make sure that you're allowing enough room for other people in communal spaces, especially when you have a bunch of items with you. If you see someone immersed in their work, don't distract them.
Stick to the schedule
By prolonging your client meeting or taking too longer than the allotted time to wrap up a call, you're probably causing a delay for everyone else who needs to use that rented space. While it might happen that meetings get stretched but be mindful that it does not hamper other coworker's schedule. That's why time management is crucial when booking a meeting room in a shared workspace.
Keep the space clean 
While there are people who will clean up the entire space, but you must take care that you do not make it dirty while working which makes others uncomfortable. Like, dedicated desks and hot desks are shared with other coworkers, so no one would like to sit beside a dirty place. Because workers come and go throughout the day, you should make sure to keep your workstation clean and tidy. 
Obey the rules
If your shared office space has a set of rules, you should obey them. As a general rule, treat the space like you want to be treated. This means eating only in designated areas, brushing up on the visitor policy and smoking outside. And while this should go without saying, avoid discriminatory behaviour and harassment toward your fellow freelancers—it's their space, too.
Mindfully engage with others
Coworking spaces are, essentially, communities. Here you will meet other like-minded individuals from all walks of life and industries working hard together. But be mindful of how you engage with others. Avoid treating a new person as a sales pitch or distracting them while they're working.
As time progresses, you may discover some people work the same 'shift' hours at the coworking space as you. Build up a rapport and engage with these professionals. You might make new friends thanks to the coworking space that brought you together! So what are you waiting for?
If you are residing in Bangalore, head over to GoodWorks coworking spaces, present in all prime locations of Bangalore. Get in touch with us – [email protected]