Coworking Space in Bangalore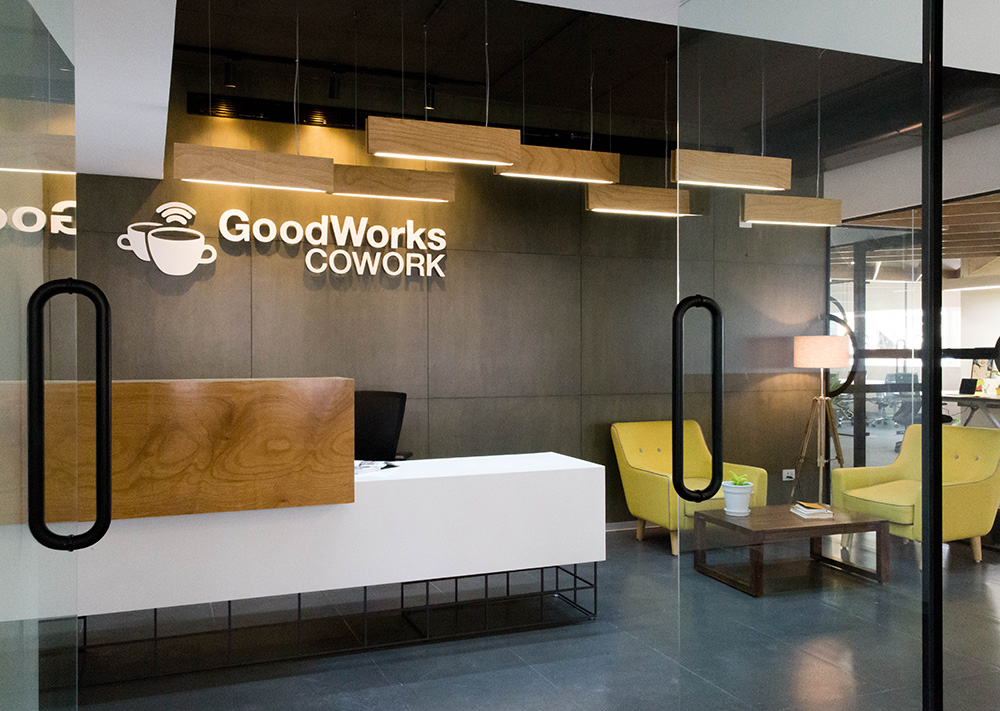 Top Coworking Spaces In Bangalore
GoodWorks CoWork offers you the best serviced office in Whitefield, Bengaluru for rent. A shared office space that allows you to expand your venture with all the necessary infrastructure. With an coworking office space in Whitefield, you will be right in the centre of the IT hub to kickstart your pet project. Our Top coworking spaces in bangalore in Whitefield will not only give you the right working platform but also mentorship from serial entrepreneurs Vishwas Mudagal and Sonia Sharma, who will guide you on the road to success. All essential administrative assistance required for a startup will also be provided for a hassle-free operational environment.
Why GoodWorks Cowork?
What makes us one the best startup office space is our location, our facilities and our value added benefits. GoodWorks Cowork is regarded as the top coworking space in Bangalore not just because of the fully furnished coworking office space and facilities, rather the environment and opportunity to meet entrepreneurs, making it a happening place for all startups.
CoWorking Office Space:
GoodWorks CoWork is located in Whitefield, Bangalore to maximise your growth opportunities. Whitefield is the trending business centre for multi-national companies, software firms, mobile design & development agencies and other service providers. Whether you're a start-up, a freelancer or an established business; working out in our one of the Top coworking space in Bangalore will open up new business opportunities for you.
The aura is of a professional business environment so that you can focus on your business. The coworking space is located on the 4th Floor of Akshay Tech Park on ITPL Main Road. The 4 floor building is an established corporate space with presence of offices like Capgemini, iGate, Sunovaa Tech and others. The building also provides a security workforce, ample parking space and elevator facility.
It features a fully furnished CoWorking office space and a mood that boosts productivity. We have a motivation wall with quotes and pictures from some of the greatest startups in the world since we understand that your process is a 'roller-coaster' ride and you need even the last drop of inspiration.
Yes, work is worship but then again everyone needs food for thought, and hence we ensured access for all coworkers to the great cafeteria just a few feet away from the shared office space. Apart from food, GoodWorks Cowork offers free coffee and tea to keep the entrepreneur in you awake and energised.
Coworking Facilities:
Individual storage units with locks to keep your gadgets and personal documents safe and secure.
High speed internet so that you can sit back and breeze through your day to day activities.
Vibrant business lounge to carry out business meeting and for your personal time.
Ergonomic swivel chairs that give you a healthy seating posture and allow you to work better.
Round the clock camera surveillance for better security and immunity to misplacement of items.
Judicious desk space which allow you to place your personal belongings in a well organised manner. Plug ports to connect all your gadgets and equipment.
Electricity backup so that you do not waste even a single second of your work schedule.
Complimentary drinking water and beverages to keep you going throughout the day.
Value added services:
In house printing and scanning options to keep your worry off the minor operations.
Round the clock security and maintenance staff to give you a secure and clean working space.
Expert advice on technology from GoodWorkLabs veterans on matters such as design, technology and funding problems.
Professional business address in Whitefield – IT hub of Bangalore which is most sought out in today's era.
Workshops, Seminars & Mentorship:
Access to startup related events, seminars and investor pitches where you can learn and grow. Also, increase your possibility of getting funded from angel investors.
Collaboration with like-minded entrepreneurs and freelancers which is one of the most important aspects of the coworking environment. Mutually benefiting from each other's positive energy and ideas is very important for a startup to go big.
Words of wisdom from Vishwas Mudagal and Sonia Sharma which is priceless in every sense as it will allow you to innovate with your ideas and implement them in a better manner.
The layout of our shared office space is designed in such a manner as to keep the entrepreneur in you striving forward towards excellence. The alleviating interiors for the youngster in you combined with the work group around will push you to be better each day.
We're proud of every new member who joins our coworking space and take it upon us to promote each member on all our social channels and extended networks. So whether you've just launched a new product or added a new member to your team, keep us posted and we'll spread the word. Even our parent company, GoodWorkLabs started small and today, we have become a name to reckon with. So, now we are offering you our coworking spaces and virtual offices, and our able guidance to grow big and better.
GoodWorks Cowork, is one of the top coworking office spaces in Bangalore to satisfy your business needs so that you can be the Next Big Thing.