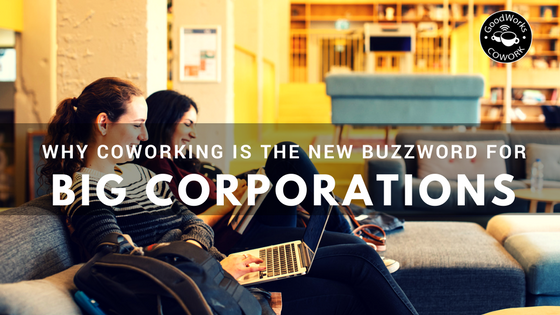 Big corporations are increasingly embracing co-working as a new way of working. Call it a new age fad or a cost cutting measure, but the fact is that major cities like New York and San Francisco are seeing big enterprises move into co-working space. Check out the below news about the same –
1 – Pricewaterhouse Cooper saw a cost saving of $850 million by moving all its US offices into co-working model. This model followed an open layout and there was no fixed desk assigned to a worker.
2 – A Q3 Occupier survey says that 44% of the large companies are already using co-working in some or the other form
3 – The same survey says that 65% of the companies will incorporate co-working into their office portfolios.
These stats show that companies across scale and size are adopting co-working office spaces. Here are some compelling reasons why co-working will matter to a large corporation in the coming months:
Telecommuting Is On The Rise
It is no longer a necessity for team members to commute and show physical presence in offices. In cities like Mumbai and Bangalore, the massive strain on public transport systems makes daily commuting nothing short of a nightmare. For this reason, a co-working space can be quite handy. Team members simply have to drop in at the co-working space nearest to them, grab a workstation, and start delivering value to their companies.
Better Cost Efficiency
Imagine if a big corporation has to set up a new office space. They will have to invest massively into the physical infrastructure and arming it with the necessary amenities. Instead of this, they can simply plug and play and start production from day one. Be it security, food and beverages, internet access, data storage, or an equipped workstation, there are many amenities that can supercharge a worker's productivity.
Suits The Job Description
Companies like McKinsey and Accenture have a lot of staff on their rolls who simply don't occupy their seats in an office space the entire day. There are thousands of business consultants and analysts who travel on-site to multiple places. With this trend, the empty desk space goes unutilized and adds to the cost overheads without adding value. With flexible workspaces, they can get a better working experience rather than sitting at a coffee-shop
Changing Dynamics Of Workforce
Today temp staff, freelancers, contractors, and part time workers are increasingly replacing traditional full time office based employees in many large corporations. For this changing workforce dynamics, it is important to allow flexible working space in order to yield gains from their employment. This is precisely where co-working spaces deliver true value.
Talent Meets Experience
This is perhaps the biggest advantage of opting for co-working. If you are a developer, designer, analyst, or software engineer, then it will be an invaluable boost to share space with a big corporation. For the companies, it acts as an incubator and innovation hub.
These benefits aptly denote why large corporations across the globe are leaning on the USP of co-working spaces.