Coworking as an industry has made tremendous strides in the past couple of years in India. From just 2,600 in 2017, the number of coworking spaces in India is projected to reach 49,500 by 2022. Last year in 2019, the industry achieved an unbelievable 10% annual growth rate, which is predicted to continually increase in the upcoming decade. Traditionally limited to freelancers and startups, the stellar growth of the industry no doubt owes much of its recent success to large companies opting for coworking spaces in big numbers for the first time. In fact, it is predicted that a whopping  40% of the global demand for coworking spaces in the next few years is going to come from bigger corporates. In this article, we discuss the top 5 reasons because of which coworking spaces are gaining traction with freelancers, startups and bigger corporates alike.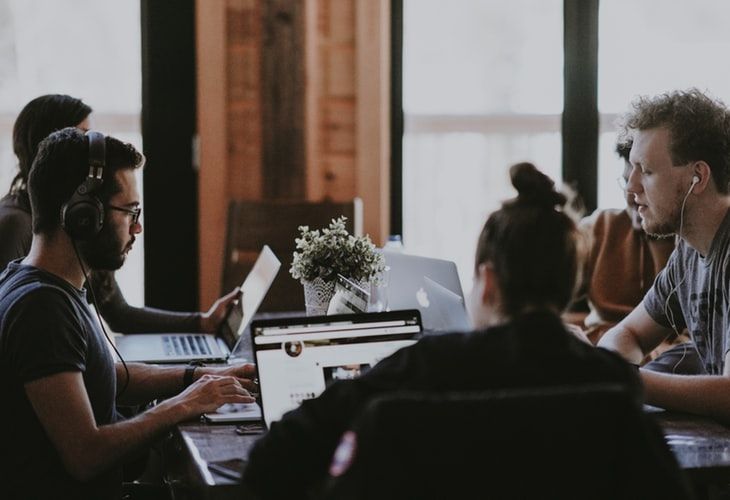 Cost Saving
The most attractive feature of coworking is that it offers tremendous potential cost savings for not only freelancers and startups, but even for corporates as well. Businesses can save, potentially 15 – 25% on their establishment costs. The biggest contributor to cost savings is, of course, the soaring commercial property rates in the biggest business cities of India led by Bangalore which saw a growth rate of over 17% last year, followed by Delhi and Mumbai at about 5%.
But establishing a new office space requires many more things like purchasing furniture, establishing utilities such as internet, electricity, hiring security and administration staff, canteen facilities, etc. These things not only cost a lot of money, but also a lot of time and expertise  – two things which modern companies have realized are better spent on focusing on their core business instead.
For smaller businesses and freelancers though, who cannot afford the cost of office space and infrastructure by themselves, coworking is a straight-up lifesaver. Any experienced business person will attest to the fact that a first impression goes a long way. Having access to facilities like a working conference room, lounge, and proper telecommunication facilities helps freelancers and small businesses make a good professional first impression to potential clients. This can often play a big role in whether clients trusts the business or not.
Mental Space and Collaboration
We have already established that coworking is an inexpensive solution for people looking to upgrade to the best facilities. But better infrastructure is not all that coworking has to offer. 
Freelancers working from home face a solitary environment with very limited interaction. Constant exposure to such a solitary environment can affect a person with chronic loneliness which can not only decrease productivity but detaches one from work as well. Employers working from traditional office spaces also do not feel much better and report suffering from chronic long-term loneliness cooped up inside their cubicles in spite of being surrounded by coworkers. In a study last year, 83% of coworking participants reported decreased levels of loneliness.
Another one of the major reasons why freelancers and remote workers from big corporates are switching to coworking spaces instead of working alone from home, is that an office environment offers tremendous psychological benefits to boost productivity. Studies found that working out of the home on a long term basis can adversely affect psychological well being, as one becomes unable to mentally separate their workspace from leisure. Another study by HBR found that coworking participants found their work more meaningful, and that number one reason why freelancers and remote workers come back to coworking is that they consider themselves part of the community. For freelancers, coworking can inject the much-needed work-life balance by separating the work and home environment and also communicates to clients that they cannot be available 24X7. Harvard also reports that freelancers find coworking to inject some "structure and discipline that motivates them".
Remote Working has already gone main-stream
Remote working has already become a major trend globally and will continue to grow in popularity in the long-term. Remote work offers a win-win situation for both employees – who can eliminate the cumbersome commute to work, as well as companies – who save significant costs on infrastructure. A major study interviewing over 18,000 workers spread over 92 international business organizations found, over 53% of the participants reported working remotely almost half the week, and a whopping 70% reported such at least once a week. This number is not that far away in the Indian context also, which is one of the major contributors to coworking worldwide.
As specified above, even though work-from-home has advantages such as eliminating commute times, it can lead to problems such as loneliness and inferior networking. Companies are now encouraging employees to work from coworking spaces near their home instead – called work-near-home programs, which combines the convenience of work-from-home and the interaction of an office environment. Working in close proximity to each other, especially in a team-based project is especially useful and build effective work relationships. A study reported in the Harvard Business Review which focused on "how employees thrive", measured consistently higher levels of "thriving" among coworking participants, even up to  6 on a 7-point scale.
Younger Workforce Demographics
India has one of the youngest workforce demographics in the entire world. Over half of our population are under 35 years, and by 2025, over 65% of the workforce will be Millenials and members of Generation Y. It has been widely published that the younger generation prefers coworking spaces in the place of the traditional work offices. The reasons for this are many. Of which, one of the major ones is that technological innovations rank quite high among the youth who want their offices to have the latest telecommunications facilities, smart internal networks, ultra-fast wifi, and ergonomic office furniture. Keeping up with such demands is not cost-effective for offices and absolutely impossible for small companies and freelancers. Naturally, they flock to coworking spaces which can provide the latest state-of-the-art facilities to satisfy their craving.
Another reason for the Millenials' affinity to coworking is flexibility. For E.g., the leading publication BusinessInsider reports that remote-work policies are now a 'major priority' for young employees while considering their contract. Allowances such as work-near-home programs seeing Millenials choosing coworking spaces near home to enjoy convenience along with professionalism.
Thanks for sticking with us to the end of the article. We hope you found it useful. If you are looking for coworking spaces in Bangalore – the Silicon Valley of India, our state-of-the-art modern offices at GoodWorks offer you the best facilities at the most affordable rates. That's why we are not only the market leader in our sector, but also the winner of the people's choice award for the best coworking space of 2019. We are Located at prime commercial hubs like Whitefield, Indiranagar,  Electronic City,  Millers Road,  Manyata Tech Park, ORR-Bellandur, Church Street and  Varthur-Whitefield. Book a Tour with us or sign up for a  Free One Day Trial Program.