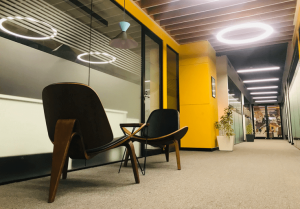 Coworking is all the rage these days. More and more people are joining coworking spaces to save on office rentals, and get access to a diverse group of professionals that they would otherwise have to pay for in the traditional office setting. Coworking spaces are a growing trend in the world. They provide a way for freelancers, entrepreneurs, start-up companies and other remote workers to work together without having to worry about office space expenses or commuting costs. 
From the cheaper cost of moving to the ability to work remotely, there are many benefits that come with working in a coworking space. If you're ready to take the plunge, read on and learn how you can save money at your next office! 
Benefits of a Coworking Space
Coworking spaces are often seen as an option for small businesses looking to cut costs, but what are the real benefits of choosing one over other locations? This article breaks down the four ways you can reduce your operating cost by choosing a coworking space.
Coworking spaces can be a great way to reduce your operating costs. Here are some of the benefits of using a coworking space:
You can save money on rent. Coworking spaces usually have lower rents than traditional office spaces. This means that you can afford to work in a larger space with more people, which is a benefit if you are working on a project that requires collaboration.

You can save money on office supplies. Most coworking spaces offer discounts on office supplies, so you can cut down on your spending overall.

You can save money on transportation costs. If you work from home, you may not need to travel to an office every day. However, if you work in a coworking space, you may be able to meet other professionals in the same area and collaborate on projects without leaving your home. This can save you money on transportation costs and time wasted commuting.
Costs of a Coworking Space
There are a few things to keep in mind when looking for a coworking space. First, costs vary greatly depending on the size of the space and the amenities that are included. Generally, a small space will cost less than a large space, but there will be more amenities included.
Some popular amenities that are typically included in coworking spaces are showers, lockers, and kitchen facilities. However, some spaces may not have any amenities at all. It is important to read the terms of use before signing up for space so that you know what is included.
Another factor to consider when looking for a coworking space is the location. Many people prefer to work in close proximity to other professionals. However, this may not be an option for everyone. If you are looking for a remote workspace, you will need to consider how much travel time is required to get there.
Overall, the cost is one of the main factors to consider when choosing a coworking space. It is important to read the terms of use and make sure that the space is suitable for your needs.
5 Ways to Reduce Your Cost of a Coworking Space
There are many ways to reduce the cost of a coworking space. Here are a few tips to help you get started:
Choose the right location.
The first step is finding the right location. You want to choose a place that is convenient for you and your coworkers. You also want to consider the cost of rent and utilities.
Consider shared office space.
Shared office spaces can be a great option if you want to save money on your operating cost. This type of space typically comes with shared amenities, such as printers and fax machines. You can also save money by sharing office space with other entrepreneurs.
Join a coworking community.
Joining a coworking community can be another great way to reduce your operating cost. These communities often offer discounted rates and access to shared resources, such as kitchens and libraries.
Start your own coworking space.
If none of these options works for you, you can always start your own coworking space! This will require some upfront costs, but it can be well worth it in the long run. 
Conclusion
When it comes to choosing a coworking space, there are many considerations to make. One of the most important factors is figuring out what will save you money on operating costs. In this article, we discuss three ways that coworking spaces can reduce your operating cost. By choosing a space that offers these benefits, you can slash your overall expenses and improve your work-life balance. So why not give one of these spaces a try? Checkout www.goodworks.in today!