It is not a well-kept secret that COVID-19 has negatively impacted almost all sectors and industries. From large corporates to start-ups, and SMEs to budding entrepreneurs all have faced the heat. Many companies do not have funds to survive this pandemic, and they are looking at shedding their costs wherever possible. The one that tops their list of cost-cutting is – workspace rents. Almost everyone is either working from home or remotely. Hence, the businesses see this as an opportunity to save their rents. Traditional workspaces cost higher and companies are asked to pay a part of the rent if not the entire cost. This is where coworking comes into the picture. Coworking spaces can provide them with better and added services at a lesser cost than traditional office spaces.
That said, during this time of pandemic any workspace that brings together a good number of people can be a hub for lasting damage. Coworking spaces require people to leave home, therefore was predicted to lose its charm. If not that, people expected that demand may decrease exponentially to that what it was a few months ago. But, in general, and logically this is not the pain that is going to last forever. In fact, we have foresighted five reasons why the coworking industry will emerge from the COVID-19 pandemic as a preferred, safer, and best option to work from.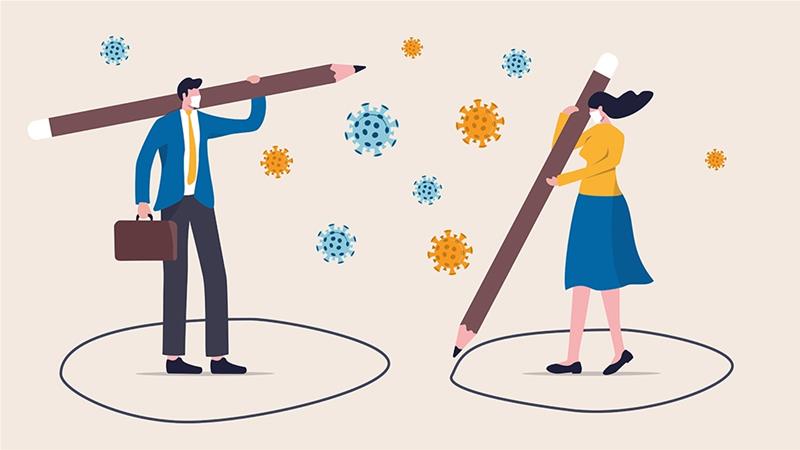 Options available nearby
Local transport options like buses, metros, autos, and cabs can be carriers of the COVID-19 as they are not timely cleaned and sanitation is to be questioned. Many people travelling using these transport options will be reluctant to travel as they will be at higher risk of exposure to the virus. Therefore, the best option from them is to work out of a nearby coworking or shared office space. This will see a constant shift between work from home and work near you home.
Many coworking spaces have multiple locations in the city, and hence they can provide workspace options almost at every nook and corner.
Cost-effective and Flexi options 
Reducing the cost is of the utmost importance for every business now. Coworking spaces offer services that are cost-effective and value-added. As many professionals can today work from home, corporates will move to coworking as they would require an only limited percentage of their workforce to be physically present at the workspace. This will reduce their infrastructure and administration cost-effectively.
Also, the Flexi options by coworking and shared office spaces will enable people to pay only when they use the service. Thereby, reducing the cost further.
Remote working 
Remote working and work from home have become a buzzword today. It is now a norm that is much more acceptable and encouraged by companies across sectors. But how long can you entirely work from home? Two months? Three months? Four? With zero social interaction, you shall be left anxious most of the time. This is when you will have to break the monotony and work remotely out of a nearby workspace whenever possible. This hybrid way of working is possible at coworking and shared office spaces.
Community Building 
Once the lockdown is over, many companies would shut, entrepreneurial dreams would fade, freelancers may lose their spirit. Here is when the 'community' aspect of coworking spaces come to the rescue. The community strength will play a vital role for people to re-connect, see new dreams, create newer products, build networks, and support each other. Of course, social distancing needs to be kept in mind.
The emergence of more start-ups and local businesses
Vocal for local has been trending all over social media. Government is encouraging and helping people to support more and more local products to improve the economy. Taking advantage of government schemes, many new ventures, businesses, and start-ups are expected to emerge post lockdown. These small and mediums businesses would require a cost-effective place to call their office. Yes, and that is when they would choose coworking for its cost, benefits, and value adds.
Should you be looking to work out of a coworking space, then let us introduce you to – GoodWorks. GoodWorks provides premium co-working and managed office spaces at multiple locations in Bengaluru. They provide hot desks for nomad workers, dedicated desks for long-term residents, and personalised private offices for larger groups. For more info write to [email protected] or call +91-8088707700.