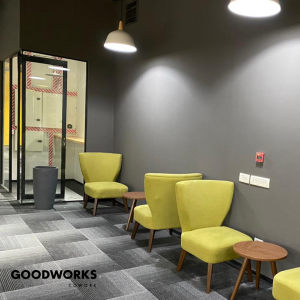 With changing office layouts, the workspace has evolved tremendously over the past few years. The rise of coworking spaces has enabled professionals to choose a wide range of spaces. These include hot desks, conference rooms, dedicated desks, and much more. One of the most popular workspace types that have emerged is dedicated desks. 
Here are the benefits. Take a look –
One of the most significant advantages one can gain from dedicated desks is privacy. One can work in peace away from others. If you don't feel comfortable with a large group of people, dedicated desks are an ideal option for you. It gives the ambiance which is needed to work efficiently. Apart from that, you can also store your belongings safely. You don't have to worry about them being misplaced. 
If you are looking for a budget-friendly option in coworking spaces, choose dedicated desks. The primary reason for low prices is the fact that you only need to pay for the space you rent. The coworking space service provider offers the necessary amenities such as Wi-Fi, tech equipment, etc. Also, managers are present to provide immediate assistance. 
Dedicated desks come with flexibility. It means you can work alone in a peaceful environment without worrying about others. If a quiet space is needed for your creative juices to flow, dedicated desks are a great choice. It is especially applicable to freelancers. Choosing the right coworking space gives you access to dedicated desks where you can work alone while having the opportunity to network. 
Increases work productivity
Another significant advantage of using dedicated desks is the increase in work productivity. With dedicated desks, employers can work in their own space with ample privacy. Also, the lack of noise from others aid in maintaining focus. And, when you are focused, you can deliver high-quality work within the deadline. Besides, you can rest and work as per your convenience without causing any disturbance to others.
Excellent space management
Dedicated desks help in attaining the much-needed space management. Now, employees can work without causing an absolute chaos. With dedicated desks, they are forced to keep the space tidy and well-organized. Not doing so will prevent them from doing the work smoothly. Moreover, working within cramped space conditions can cause stress. It will ultimately have an effect on work quality.
One of the most fascinating aspects of dedicated desks is that they can be rearranged as per convenience. That means you can join multiple such desks if you want to fit in more members for a joint effort of solving a problem or brainstorming new ideas. It aids in excellent team management as there is no need for the manager or leader to move from one place to another to talk with each member. 
Offering a sense of ownership
When employees feel a sense of ownership over the space they work, it has a positive impact on work productivity. Dedicated desks allow employees to use them as their desire. They can decorate the desk and make it more personal. With a personal touch, employees tend to work better. Apart from that, dedicated desks are equipped with the resources necessary for the job. 
Conclusion
One of the most hyped workspace professionals opt for is dedicated desks. It offers a wide range of benefits and is a perfect choice for those who value privacy. Moreover, if you are looking for a cost-effective option, dedicated desks are an ideal choice. However, there are other options one can explore in coworking spaces too. For that, you need to pick the best coworking space service, provider. Want to explore top-notch coworking spaee? Check out GoodWorks CoWork, based at all prime locations of Bangalore. We bet, we'll not disappoint you. Contact us here!